Adnan Darwiche
University of California Los Angeles
The Knowledge Compilation Quest: How Far Have We Gone?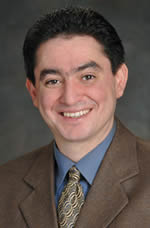 Adnan Darwiche is a professor and former chairman of the computer science department at UCLA. He directs the Automated Reasoning Group, which focuses on symbolic reasoning, probabilistic reasoning and machine learning. Professor Darwiche is Fellow of AAAI and ACM. He is a former editor-in-chief of the Journal of Artificial Intelligence Research (JAIR) and author of "Modeling and Reasoning with Bayesian Networks," by Cambridge University Press.
Carlos Ansótegui
University of Lleida
SAT, Gadgets, and MaxSAT
Carlos Ansótegui is a professor of the computer science department at the University of Lleida (UdL). He leads the Logic & Optimization Group (LOG), which brings together researchers from UdL and Universitat Politècnica de Catalunya (UPC). LOG is focused on the design of efficient solving techniques for combinatorial optimization problems through Satisfiability-based solving approaches, efficient modeling, and automatic configuration.